Learn to Host Moon Circle Gatherings with Alva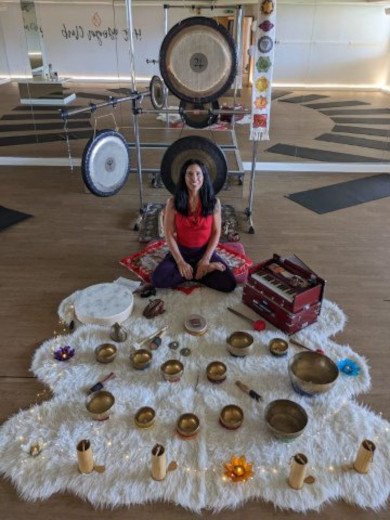 The Moon has always been a strong influence for me throughout my life.
When I was a child we lived on the top floor of a building and sky gazing was something that I found myself doing a lot.
I was raised in a Jewish-Kabbalistic tradition. The Hebrew Calendar is a Luni-Solar based calendar and by so, we are Moon followers.
So what does it mean to follow a Lunar calendar?
Our Holy days and events are celebrated mostly on New Moons and Full Moons.
As women, the New Moon - Rosh Chodesh - is sacred for us and we are gifted with the privilege to respect it and practise our spiritual practices on that night.
Manifesting the energy for our families and loved ones for the whole month ahead of us through different prayers and intentions settings.
I had the call to use the energy of those two auspicious dates in the month. I felt that I wish to create a space for people of different traditions and walks of life to come together.
In the past decade, I have hosted Moon circles regularly and in recent years we are gathering twice a month at our home in Hampton Wick, Kingston upon Thames.
What will we learn?
On this 50 Hour Foundation course we will learn how to facilitate New & Full Moon gatherings.
We will explore the energy focus of each Full and New moon according to the Hebrew calendar and the Kabbalah tradition.
We will learn the foundation of Hospitality according to Abraham the Patriarch.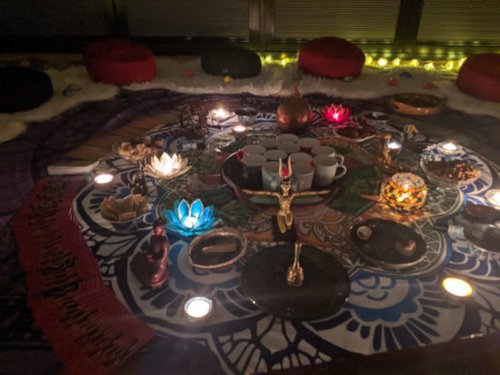 The course will include learning to guide meditation techniques which the student will then be able to share with their guests.
These meditations are rooted in the Yoga tradition.
We will take a journey into how those energies manifest themselves in your own personal way, connecting with your chosen traditions, cultures, skills and tools in order to assist you to find your own unique way of hosting and sharing these special events.
This course will support you with everything that you will need to host a circle.
It will also include, for the more experienced Yoga and meditation teacher, an exploration into incorporating their own current skills within the circles.
For example: I offer Kirtan on Full Moon, a Yoga teacher who is teaching ecstatic dance may prefer to offer that.
What will you gain?
All the tools and materials needed to open your own Circles straight away.
50 Hours fully accredited and certified by Yoga Alliance Professionals.
50 minute Zoom support call for every graduate before their first circle hosting.


A general breakout of the schedule:
Introduction - 2 hours video meditation experience

Full moon - 24 hours over 3 days:
Thursday 10:00 - 18:00 In person
Friday 10:00-18:00 Live session on Zoom
Saturday 10:00-18:00 Zoom and In person

New Moon - 24 hours over 3 days
Thursday 10:00 - 18:00 In person
Friday 10:00-18:00 Live session on Zoom
Saturday 10:00-18:00 Zoom and In person
Course Terms
Winter course
Thu 2.2.2023 - Sat 4.2.2023
Thu 16.2.2023 - Sat 18.2.2023
Fees: £800
Early Bird by 2nd November 2022 £700 - use code EARLYBIRD
---
Spring course
Thu 4.5.2023 - Sat 6.5.2023
Thu 18.5.2023 - Sat 20.5.2023
Fees: £800

Early Bird by 4th February 2023 £700
---
Summer course
Thu 3.8.2023 - 5.8.2023
Thu 17.8.2023 - Sat 19.8.2023
Fees: £800

Early Bird by 3rd May 2023 £700
---
Terms and Conditions
Refunds and cancellation
Course cancellation by student
For cancellations over 8 weeks before the course commences, we will refund 50% of the cost.
Cancellations under 8 weeks before the course begins or after it has started, will unfortunately not be refundable.
Course cancellation by Alva Yoga
In the unlikely event the course is cancelled us a full refund will be made. If the course is rescheduled to a date the student cannot attend a full refund will be issued.

In order to receive the certificate you will need to attend the full training.

Photography
We reserve the right to photograph or film during the course, and may use these images for our website or to market future courses. Please let us know beforehand if this is causes any issue with you