Autumn Energy Clearance Day Retreat
The Autumn Energy Clearance Day Retreat
Saturday 11th November 2023 - 10am-4.30pm
The Study Society
151 Talgarth Rd
Hammersmith
London
W14 9DA
Led by Alva Malka & Katy Appleton, offers a unique opportunity to clear stagnant energy within your body-mind that we collect and carry often unaware, in preparation for the hibernation of the winter season. This retreat day draws upon the wisdom of Chinese medicine, which recognises the importance of creating space and releasing tension to restore your energy reserves within.

We warmly welcome all levels of knowledge and understanding in yoga and offer a variety of practices, including kriyas (cleansing practices), pranayama (breath-work) simple & dynamic fluid vinyasa sequences (yoga flow), long-held openings, yin and restorative poses. These practices are designed to gently heat your body, create space and clear any tension or stress that may be present within the body and mind.

Final practices will culminate with a deeply relaxing led Yoga Nidra and Sound bath and 30 minutes of powerful, uplifting, yet deeply restful meditations through chanting and the voice. There is no previous chanting experience needed, just an open mind and heart and you will be wonderfully held in this practice called Kirtan.
This day retreat offers the perfect opportunity to take time for yourself, reconnect with your body, and nourish your soul. It is a day filled with purpose, warmth, relaxation, and rejuvenation, and Alva & Katy are delighted to share this experience with you.
Katy Appleton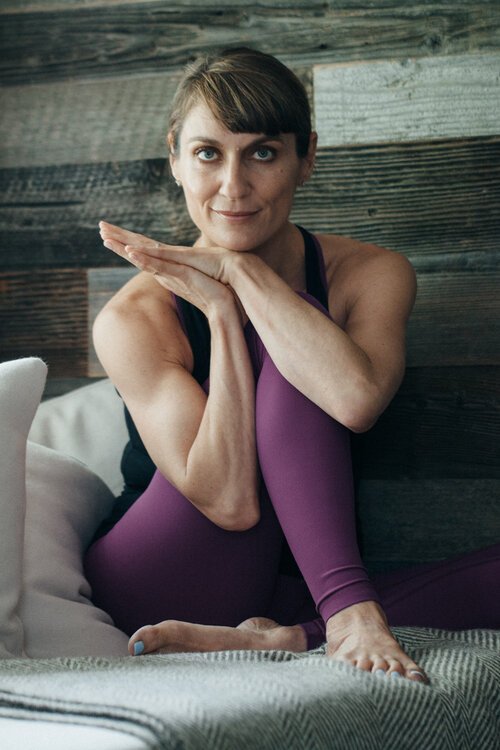 Katy Appleton, Founder and Director of appleyoga brings to yoga more than 30 years of expertise in movement through ballet, body tuning, breath and energy work.
She is an internationally-recognised teacher of Vinyasa Flow and is known for bringing the true essence of yoga alive in a student's body-mind in creative, dynamic and life-transforming ways. Her teaching is bio-mechanically savvy whilst also being fun and playful, invoking a deeper embodied sense of self.
Amongst the many yoga loves of her life, chanting and mantra have been high on the list of practices that have moved her soul and brought her home.
Alva Malka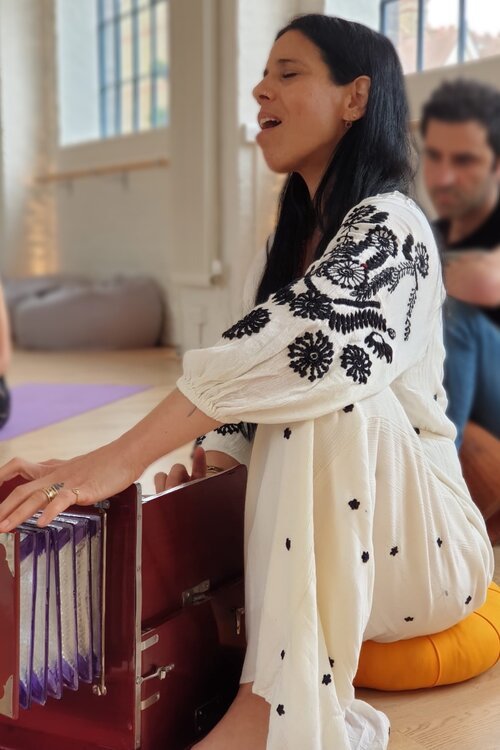 Alva graduated in Traditional Chinese Medicine (Acupuncture, Herbology and Tuina) in an incorporated study program between Reidman International College for Complementary and Integrative Medicine and Chengdu University of Traditional Chinese Medicine (TCM) in China.
During these 4 years of studies she was exposed to many different methods of healing and therapies and took additional classes outside the TCM frame, she then graduated in Shiatsu therapy and practises daily Qi Gong and meditation.
Alva has a long established acupuncture clinic in Kingston and Hampton Wick
Whilst abroad she fell in love with Yoga and went on to do many different yoga trainings over the years and now teaches an eclectic mix of many well regarded styles.
Like Katy, Alva studied with Nikki Slade's Learn to Lead Kirtan Training completing her 200hr Kirtan training three years ago and regularly offers sound bath meditations, chanting and yoga nidras at her home studio in Kingston.